Listen to Sokule
President Jane Mark



It is breathtakingly easy and great fun all at the same time.
Where's Sokule is a new, unique, and special addition to one of the internet's premier business social media sites called, Sokule.
Here's how it works...
See the little guy with the big eyes floating around this page? When you join Sokule, you will be able to chase him around the members area on 10 high traffic pages and win game sokens.
When you find Sokule, and you click on him before he moves, you have caught him, and you are on your way to winning you can trade in for valuable business and marketing prizes.
These prizes will help you quickly and easily build a profitable mailing list plus give you huge advertising websites.
You can also

earn money

*

as an affiliate by promoting this page or other links in your Sokule member area. The higher your membership, the more you earn. All the way up to 50% which could net you as much as $1,248.50 if you sell a founder membership.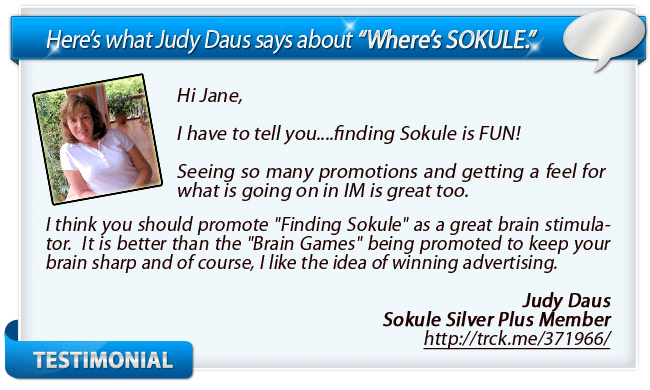 Are you ready to have some fun...
If you are a current member of Sokule
login here.
And click on the Where's Sokule Icon in the member area.
Not a member of Sokule?
Join now!
Sokule says - "Watch For the One time Offers as you sign up. Your ability to win valuable prizes increases as your membership level increases at Sokule."